Should I Worry About My Wisdom Teeth?
Many people are concerned about their wisdom teeth. After all, they have a notorious reputation from a dental perspective. Many people associate wisdom teeth as being a 'young adult' issue, however these sneaky teeth can become problematic at any stage of your adult life.
What Are Wisdom Teeth?
Teeth are classed based on their shape and function in the mouth. Starting at the front everyone has four incisors, two canines, four premolars, and three molars. This is the same for the top and bottom jaws.
The wisdom teeth are another name for your third molars. By around age 12, all teeth except the wisdom teeth will have come through into the mouth. The wisdom teeth do not come through until much later, around age 18-21.
So What's all the Fuss About?
Over many thousands of years, mankind has evolved to have a much smaller set of jaws than our genetic ancestors. This often means there isn't enough room for the extra wisdom teeth to come through.
If you are someone who has developed wisdom teeth—and most people are—they may present a few different issues:
They may be tucked so far back in your mouth that you are not able to brush them properly.

They may be lying sideways in the jawbones, sometimes poking partially into the mouth.

They may not have enough room to come all of the way through normally.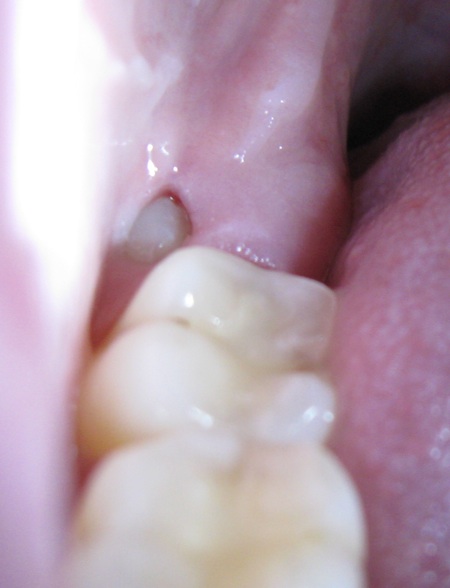 Effective cleaning of the teeth is impossible in these situations, which leads to a build-up of food and bacteria around the teeth (or gums). This often results in gum disease, decay, or infection of the tooth itself.
Symptoms of this may not present for a long time. Sometimes they only flare up when your immune system is battling with something else (eg. a bad cold/flu). Wisdom teeth are also notorious for flaring up painfully while on overseas holidays!
Waiting to see if your wisdom teeth ever become a problem is an attractive concept for many people, however leaving them in the mouth risks the potential for many problems including;
Pain of the wisdom teeth or surrounding gums.

A more difficult extraction if the wisdom tooth has become broken down.

Longer recovery time after treatment.

Swelling and spread of infection to other teeth, the rest of your body, or your airways. It is important if you notice any changes in your breathing or swallowing to go straight to your nearest hospital.
Currently there is no consensus whether wisdom teeth cause orthodontic crowding of the teeth, but often wisdom teeth will interfere with future orthodontic work.
So What Should I Do About My Wisdom Teeth?
Early assessment and management of the wisdom teeth is the best way to avoid the above complications. This is done by getting a special x-ray of the mouth that shows all of the teeth at once, allowing us to assess the position of your wisdom teeth. We can then determine your risk level and whether it is recommended that treatment is required. Usually treatment is tooth extraction, but some wisdom teeth are better left in the mouth. Even if you don't want to get your wisdom teeth out right away, an x-ray assessment means we can make an informed decision.
Ideally, this x-ray is done at 17-22 years old when the teeth are still forming to prevent complications. Getting in early can also mean an easier extraction and shorter healing time. However, if you have never had an assessment of the wisdom teeth but can feel or see them poking through, we recommend this at any age.
Hopefully, this has answered some of the questions you have about your, or your child's wisdom teeth!
Please feel free to book in if you would like us to assess your wisdom teeth.
Alternatively give us a call on (03) 9482 4044 if you have any questions!