Did You Know About These Celebrity Smile Makeovers?
A smile makeover is a procedure followed to improve the appearance of smile through various cosmetic dentistry procedures. Some of the procedures needed for the smile makeover include, dental implants, bonding, veneers, and teeth whitening among others.
When the patient comes in thinking about improving their smile, the dentist will discuss at length about how to go about choosing the right kind of smile for the patient based not only on their choice, but also taking into consideration various factors like skin tone, hair colour, teeth colour, the shape and width and length of the teeth, gum tissues and the lips, and how the tooth are displayed while smiling. Smile makeovers are customised according to individual requirements.
Smile makeovers are done by many Hollywood stars and celebrities across various fields like sports, theatre film, industrialists and so on.
Why do celebrities opt for smile makeovers?
As we all know, a captivating smile is half the battle won. Not all the celebrities who have most enchanting smiles are born with them. Many high profile people including Hollywood stars, who have to be in the public eye, need to have an attractive smile.
Smile makeovers can improve on the shape of lips also. Many celebrities who keep looking young and fresh forever have the secret of their eternal youth in the cosmetic dentistry. An ageing face can be rejuvenated with a few procedures in smile makeover and make their faces shapely and attractive.
Each celebrity has their unique plus points and minus points. The cosmetic dentist highlights the strengths of the face and at the same time with his art changes the smile to make it pleasing according to the celebrities' wishes and needs.
Many celebrities change the height of their teeth because with age teeth become shorter. Long teeth give an appearance of youth. Also when teeth become shorter with wear and tear, the smile appears gummy. Longer teeth give facial appearance an impact. Shapely long teeth appear attractive on a round face, giving a slimmer appearance.
The smile line which is an imaginary line running from one edge to another edge of the mouth ideally should be same as your lower lips curve while smiling. The length of the teeth also affects the smile line of your face.
Tooth Proportions refer to the size and shape of the teeth in line with other teeth. Most people like to have two central teeth dominate. Texture and character of the teeth correspond to feminine or masculine appearance of the gender.
The highly celebrated actors and other high profile personalities have gone for smile makeovers because their faces are their selling point. Whatever it is that they are selling, their face is their carries it further. A charming smile is essential in their careers as actors, politicians or sportspersons.
The following are some prominent celebrities who have gone for smile makeovers based on the guidelines that characterize beautiful smiles.
TOM CRUISE
Tom cruise is a mighty celebrity who has chosen to go for cosmetic dentistry. He did the cosmetic treatment quite early in his career, one doesn't recall him without his dazzling smile. He had to go through a massive orthodontic treatment. He is missing a central incisor. He has made use of traditional and cosmetic orthodontics, in addition to getting fitted with crowns and veneers. Although the alignment is still not perfect, it is not noticeable and the result is exemplary.
CATHERINE ZETA JONES
Catherine Zeta Jones got a totally changed look of her face when she got the work done. Orthodontic treatment was done prior to cosmetic treatment. The veneers changed the colour, size and shape of her teeth.
GEORGE CLOONEY
In the early days of his career, this handsome star had yellow teeth. After his movie "Facts of Life" he got himself a full set of veneers. He is one of those individuals who grind their teeth while stressed, which necessitated the cosmetic treatment for this famous star.
ZAC EFFRON
The teen heartthrob that he is, it cannot be denied that his aesthetic cosmetic dentistry has a share in his popularity. Before he shot up to star status, Zac went for Cosmetic dentistry to fix the gap in the front teeth and got his teeth whitened.
CHERYL COLE
Cheryl Cole is one of the judges in " The X Factor". She went for Cosmetic dentistry treatment, after which her career really took off! She got done the front gaps changed with orthodontics and then got whitening treatment done. There could have been gum surgery done to lengthened the crowns or veneers.
HILARY DUFF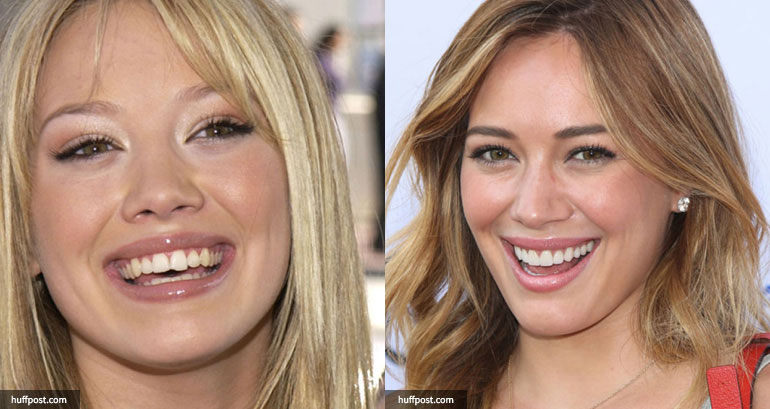 A Disney child star, Hilary Duff did not have perfect set of teeth that she displays now. In 2009 she concentrated on singing more. She chipped her tooth on a microphone in a concert. That's when she decided to go all the way to get veneers for her teeth. She has never looked back.
NICOLAS CAGE
A unique Oscar winning actor, Nicolas Cage got two of his teeth pulled out to get into the skin of the character he was playing in "Birdy". Once he started leading roles, he got himself a full set of veneers. His increased popularity says it all.
VICTORIA BECKHAM
The famous member of Spice Girls has tremendous style and fashion sense. Known by nickname posh did not have posh set of teeth. In the late 1990 she got her teeth straightened and bonded which resulted in her super popularity as a member of the all-girl group.
There are many more super popular Hollywood stars who have tasted the results of cosmetic dentistry in their shooting career.
LOUIS WALSH
Louis Walsh the Irish Music manager who is one of judges on the British reality show had gone for extensive cosmetic dentistry treatment before going on TV. He got his teeth whitened and crooked teeth were corrected.
DEMI MOORE

The famous beautiful actress does not show her age. She considered many options when she felt her teeth yellowed and showed wear and tear. She decided on a set of veneers which proved to be a perfect choice in cosmetic dentistry.
The list is long. Which proves the success of cosmetic dentistry.